Radio and television are the most powerful tools of influence in this age.
Think about this, it takes only 20 seconds for a commercial on radio or television to convince you to change the toothpaste you use or try out a new soap, imagine then what a 30 minute program sharing the love of Christ can do to transform the lives of millions in this country.
There is a big need for the Word of God and ministry in our country and as this need grows bigger, we would like individuals to catch onto this vision and run with us as we sow the seed of the Gospel and flood Namibia with the Word of God. Our Broadcasting station currently has a production studio in Windhoek and the Administration section together with prayer worriers in Swakopmund
.
1. <![endif]>WHAT DOES TBN NEED THE MONEY FOR?
The below pie gives an indication of how funds have been spent averaged out over a 7 year period. All that we have achieved so far is mainly because of our partners who generously support us in giving financially and praying with us and for us.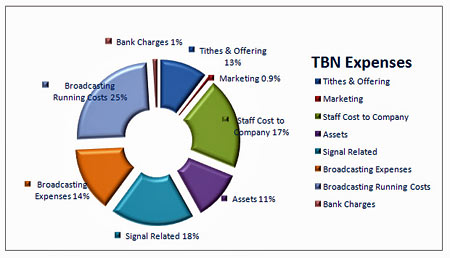 In order to appreciate the above expenses you need to understand how the signal gets to your TV set after it leaves TBN Namibia.
TBN NAMIBIA UPLINK STATION
Programme Signals are received at Windhoek FCC (Final Control Centre) from the TBN USA or any other programmerís satellite signal feeds

A programme schedule is produced from feedback obtained from viewers as per their favourite polls

Local productions are ingested onto our system together with pre-recorded programmes and playlists are made on day 1 for airing on day 2

TBN Namibia signal leaves FCC and is beamed as per the figure below left.

TBN Namibia is then received by the satellite dish antennae at the various sites across Namibia and transmitted via various transmitters (see figure below), and received via UHF or VHF antennae in each area.

To get the signal to the satellite so that we can have it available across the nation can cost around N$100 000.00 per month depending on the rate of exchange.

We need to rent space at the site where we have the transmitters across the nation and site rentals can cost anywhere up to N$12 000.00 for a site each month.

Then we need to cover the regular expenses as indicated on the Expense pie above.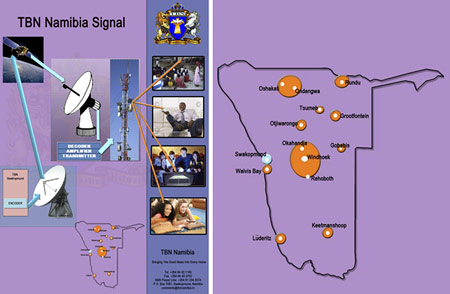 1. HOW MUCH COULD I CONTRIBUTE?
TBN has the potential to reach over 70% of the people of Namibia. To enable us to do so;
we only need around 12 000 Praise Club Partners Committed to partner with us for N$30 or more a month for a year, or

720 Eagle Partners that contributes N$ 500.00 or more per month or N$5,000 per year.
<![if !supportLists]>2. <![endif]>WHAT ARE THE BENEFITS FOR ME WHEN I CONTRIBUTE?
You too can be a part of sharing the Gospel with thousands of people every year that accept Jesus as their Lord and Saviour

Then there are also all the miracles that people experience because of answered prayer.

You are able to receive the Word of God to saturate your home 24/7/365 to build up your faith while you grow in the knowledge of God and how to advance in His Kingdom.

You are also able to enjoy some Loyalty Discounts obtained for TBN Partners

Why not consider becoming a partner with us by praying for and donating to TBN Namibia?
<![if !supportLists]>3. <![endif]>HOW CAN I BECOME A PARTNER?
Here are some options:
You can make a monthly contribution of any size or

You can make an annual larger donation
To become a Praise Club Partner you are prepared to commit yourself to sharing in this vision with a minimum contribution of N$1 per day or more for a year. PLUS praying daily for TBN.
In return we undertake to:
Pray for you daily

Issue you with a Loyalty Card
To become an Eagle Praise Club Partner you are prepared to commit yourself to sharing in this vision by contributing a minimum of N$500.00 per month for a year or N$5000.00 onetime gift or more per year. PLUS pray daily for TBN.
In return we undertake to:
Send you a joining gift

Pray for you daily

Issue you with a Loyalty Card
<![if !supportLists]> <![endif]>
<![if !supportLists]>4. <![endif]>HOW CAN I MAKE MY PAYMENTS?
You can:
deposit cash,

make an electronic fund transfer (EFT) or

apply for a stop order at your bank, or

complete a Pledge Form which creates an automatic monthly deduction Pledge Form -- Pledge one time or monthly via mail
We have accounts at:
Bank Windhoek
Account Name: TBN
Branch: Swakopmund
Branch Code: 481-772
Account #: 8000152622
Type of account: Cheque
NamPost Smart Card
Account #: 33830176-5
First National Bank
MobiPay
PLEASE CONSIDER BECOMING A PARTNER TO HELP FLOOD NAMIBIA WITH THE GOSPEL AND SEEING THOUSANDS TURNING THEIR LIVES OVER TO GOD.
Namibia will be saved in Jesus Name